As a WordPress user, you'll most likely be aware of the huge increase in the number of attacks on WordPress sites. In fact, after the release of every new WordPress version, a security update is rolled out to fix exploitable vulnerabilities discovered in the new version release. For instance, a cross-site scripting (XSS) vulnerability was found by a researcher that affected WordPress websites running older or 4.2 version.
Needless to say, just a mere thought of your website getting hacked can give you jitters. Now, just imagine the worst case scenario when your site gets hacked. Breaking into your site will give hackers access to your client information. Not to mention, this could cause serious damage to your brand; you might even lose the trust of your potential prospects. And so, it is imperative that you are following security measures to keep your WordPress install protected against attacks.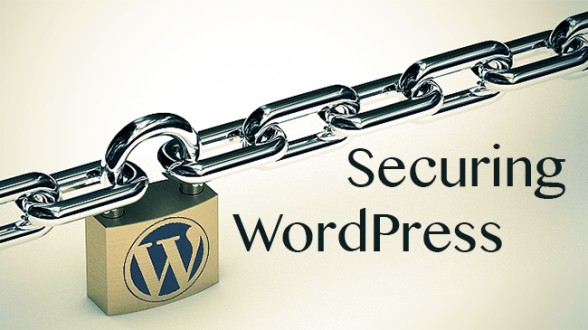 By now you might possibly be wondering as to how you can ensure that your WordPress site is secure?
There are a few easy-to-follow tips that can help guard your WP site against security vulnerabilities. One important thing that I want to mention here is that the tips doesn't guarantee in making your site 100% secure, but will definitely help in keeping your site protected against hacker attacks.
#Tip 1: Restrict Access to Your Website Admin Area
Of course, you wouldn't want all your users to access your website admin area. This applies to websites that does not support user registration or not requires creating content at the front-end; in this case you don't need to provide access to your site's "wp-admin" folder. To do so, limit access to the "wp-login.php" file by adding the following code in your theme's .htaccess file located in the admin folder:
Allow 

from

 xx.xxx.xxx.xxx

Simply replace the xx.xxx.xxx.xxx in the above code to your website IP address. Also, in case you want to give users the ability to access multiple computers just add another "Allow from xx.xxx.xxx.xxx" line of code in the code.
But, what if you would like to access your website admin panel from any IP address? In that case, limiting access to your admin area to one single IP address isn't a sensible approach. If that's the case, then a viable alternative is to limit the number of attempts made by users to login into your website. This is also a great way to keep your site protected against brute-force attacks. You can achieve this objective using the Limit Login Attempts WordPress plugin.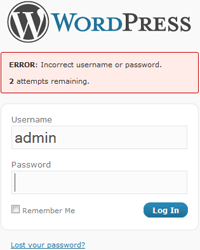 Fig. WordPress site login screen after failed login attempts
#Tip 2: Make Sure Your Site is Running Latest WordPress Version
WordPress releases a new version containing fixes to security patches discovered in older versions. Therefore, ensuring that your site is running on the most recent WordPress version will make it secure from vulnerabilities found in earlier WP versions. Besides this, you will also get access to many new features that can help in strengthening the security of your website.
For example, the most recent WordPress 4.3 version with the name "Billie" has introduced a new and effective approach for making password of a WordPress site stronger and better.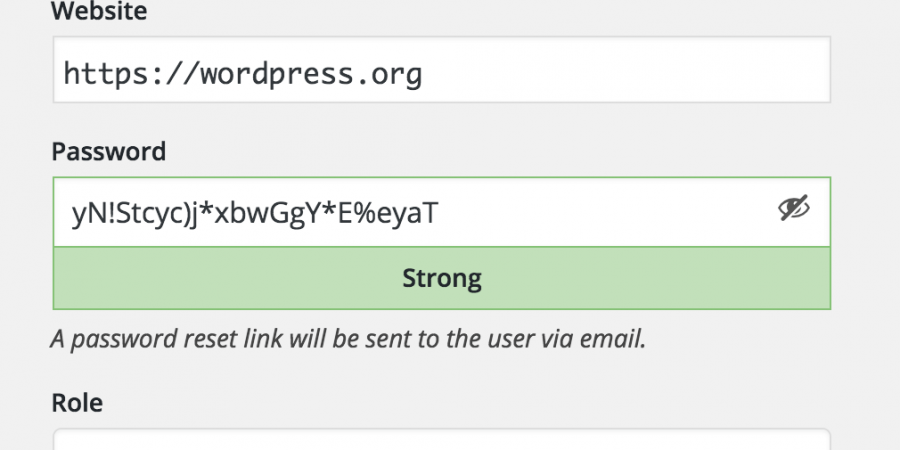 According to this new feature, you won't be receiving password in your mailbox messages, and rather will get a password reset link. And, when you need to create a new user profile or edit some existing one, WordPress will automatically produce a strong password for your users.
#Tip 3: Monitor Your Plugins and Keep Them Updated
We usually end up adding several plugins to our WordPress site to enhance its functionality or for adding any new feature to the site. Thus, there's a greater possibility that your site contains unused and unwanted plugins. Since there are many aspects that site owners need to concentrate to run their website, and so it's pretty easy to forget about checking the unused plugins installed in the site. Thankfully, WP Security Audit Log plugin provides WordPress & PHP Errors Monitoring Tools that helps monitor your website plugins and generate an alert if some error is detected.
Apart from monitoring your plugins, it is also a good practice to make sure that all your website plugins are up-to-date.
#Tip 4: Routinely Back up Your WordPress Site
Despite taking precautionary measures, your site can still get hacked. And so, it makes sense to stay ready to deal with such a scenario. You can do so, by creating a backup of your WordPress site on a frequent basis, especially before and after every update. Doing so, will help you restore your site to its original form in case it is hacked.
Summing Up!
Hackers can attack your WordPress website in different ways. In fact, chances are that a WP install may contain infected code unbeknownst to their website owners. While there is no fixed solution to keep your site completely secure from attacks, but abiding by the aforementioned tips will definitely increase the level of security of your website.