If you want to build highly interactive, and feature-rich mobile applications for your business, then you must try web-app creator that are specially developed for non-developers who don't know much about the web app development process. Today, anyone can build beautiful, fully-functional apps without any technical knowledge.
In fact, there are loads of app makers in the web market that allows you to build professional, user-friendly web apps for your business. From the collection of hundreds and thousands of app makers, we bring you the five most overwhelming resources for creating business apps without any technical assistance.
Appery.io is the single drag-and-drop cloud-based platform that comes with visual development tools and merged with backend services. It means that you don't need to install or download anything because the builder works completely in the cloud. Therefore, you can easily create and launch your business app.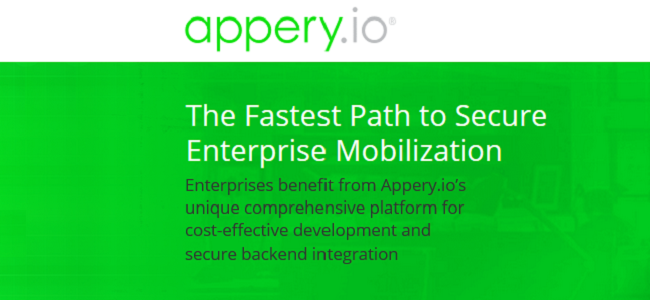 Appery.io is popular among novice or non-developers because one can build professional looking apps without writing a single line of code. In fact, it offers tons of advanced features that can be used by experienced web app developer as well.
With the help of this app maker, you can build scalable, compatible and fully-functional apps that can run fluently on different devices.
AppMachine is an outstanding web-app framework used to build high-quality web applications. This tool allows you to develop eye-catchy and interactive apps for your business, without even writing a piece of code.
It is a (semi) free app development tool because you only need to pay for the services when your app is ready to launch. With the help of this tool, you easily and quickly scan your existing site and upload the content into iOS, Android, and Windows Phone app.
AppMachine gives businesses the liberty to adopt either the standard or highly advanced features. In standard features, you will get images, social media, videos, contact information, analytics and more. On the other hand, advanced features include custom coding, online shop, and other web-based services that enable connections to external data sources.
Canvas is a great business app builder that helps you in collecting data in more organized and effective way as compared to other traditional tools. If you want to build your own mobile forms in a few minutes, then this tool is perfect for you. With this, you can develop customer-oriented PDF's with your logo, and can add colors that can suit your business needs.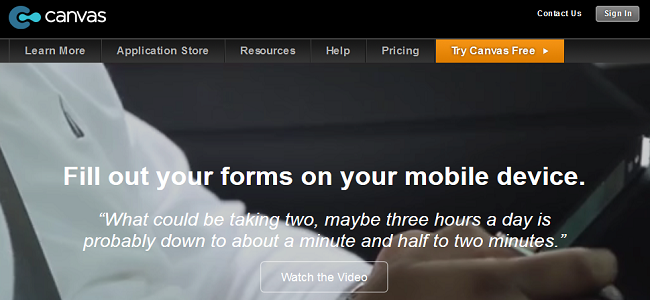 It is a drag-and-drop app creator that enables you to convert forms into mobile-friendly digital formats, without any complication and hindrance. With the use of Canvas, you can build a highly professional business app that can perform all sorts of time-effective tasks like, estimates and purchase-order calculation, workflow automation, product tracking through GPS and more. Plus, it accepts mobile payments, manages various databases such as product lists, accounting codes, and customer information.
To an addition, it also offers protected cloud storage for assorted customers who can easily share files and docs with their team members. Canvas Business Apps and Forms works brilliantly on Android, iOS and Windows mobile platforms. You can also avail this tool for a 30-day free trial.
Create fascinating mobile applications for your business by using Bizness app maker. It is one of the vigorous mobile app creators that empower non-developers to build a mobile app instantly without even inserting a single line of code. Bizness app is for all types of businesses such as restaurants, spas, legal services, real estate services, sports, NGO and much more.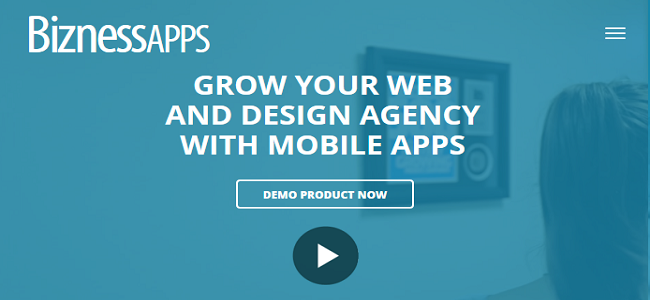 This tool is particularly designed for those small business organizations that don't have enough budgets to hire professional developer for building high-quality mobile apps. It provides a user-oriented CMS that allows companies to design and alter the Android, iPhone, iPad mobile web applications according to their needs.
However, you can develop the design of your app as it comes with numerous design templates that can be customized. The builder offers some of the exciting features such as GPS, push notifications, social media, mobile reservations and food ordering, mobile shopping cart, content sharing, mailing lists and much more. Plus, it offers a wide range of convenient in-app integrations with other powerful apps.
Mobile Roadie is an amazing self-service mobile app maker that helps people to develop business related mobile apps for multiple mobile platforms such as Android and IOS. In fact, many well-established companies have developed their mobile app with the help of Mobile Roadie.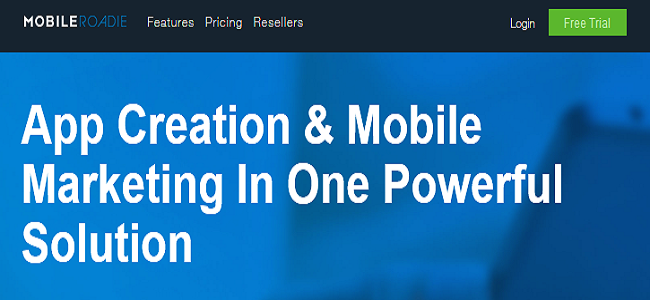 It is a robust tool because it comes with hundreds of advanced features that allow you to develop an interactive and feature rich mobile app. By using this app creator, you can build a typical business-oriented application that can offer some of the compelling features like, location maps, new updates, individualized messages, push notifications, mobile marketing tools, chat options and more.
Plus, it allows you to import images through various popular social media platforms such as Facebook, Instagram, Flicr, Twitpic, and more. In fact, you can also upload audios from iTunes, SoundCloud, and other services that allow you to buy music from the application. It also empowers you to develop Quick Response (QR) code that you can use to lock or unlock extra content.
Conclusion
We have explored the top 5 mobile app creators that can help all types of business organizations to build professional looking and intuitive business app.