The demand for hybrid apps is increasing at a continuous rate. In fact, based on Gartner's forecast, "by 2016 over 50 percent of mobile apps deployed will be hybrid." The reason behind the growing popularity of hybrid apps is the balance it provides between native and HTML5 powered web applications.
How hybrid apps are expected to dominate the app market in the distant future?
Let us have a more detailed view on this:
Native apps help deliver an enhanced user experience, allowing users to take benefits of the device features on which a native application is installed. However, the problem with a native app is that it works on a single platform, and hence, you need to create different versions of a native application for each type of device or OS.
However, with HTML5-based web apps, you don't need to worry about creating different app versions for multiple devices or operating systems. That's because you need a single code base for developing a web application, and that code base can be easily deployed to several mobile devices and platforms.
But, web apps fail to provide offline capabilities and device features just like a native application. Thanks to hybrid apps, you can have a web application with mobile device capabilities.
If you're convinced at creating a hybrid app, then you can make use of a hybrid app development framework to get the job done efficiently. However, with many frameworks available for developing hybrid apps, choosing the most suitable one can be overwhelming and challenging for you.
Comparison Between Best Hybrid App Development Frameworks
Let us compare some of the most popular hybrid app development frameworks:
Ionic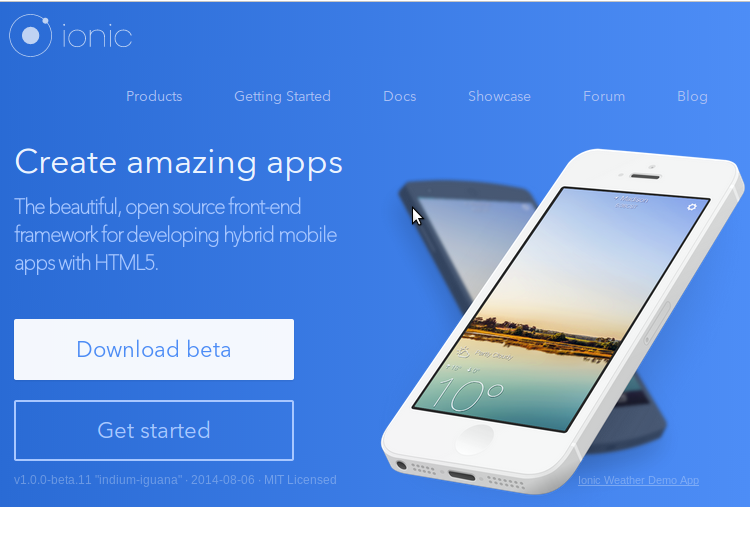 This one is touted to be the most promising open-source framework for building hybrid apps. Based on SASS, the Ionic framework helps in building beautiful hybrid apps using several mobile UI components, typography, etc. The best part is that Ionic helps in building apps in an easier way, using the commonly used web technologies such as HTML5 and CSS and JavaScript.
What's more? The framework also uses AngularJS to help develop hybrid apps with near-native like experience.
Pros:
Enables you to utilize a single command for performing actions like creating, developing, testing and deploying your application on to a specific mobile platform.
The framework is backed by a huge community.
Ionic contains a powerful CLI with tons of features.
Is continuously updated according to the latest trends, which helps in creating an app that addresses the need of new generation users.
Cons:
To build complex hybrid apps, you'll have to use AngularJS. The problem is: not all the developers are familiar with AngularJS. Moreover, the steep learning curve of AngularJS makes it challenging for novice developers to use Ionic
You can have a hard time in making your app navigation smooth using Ui-router.
F7 (or Framework 7)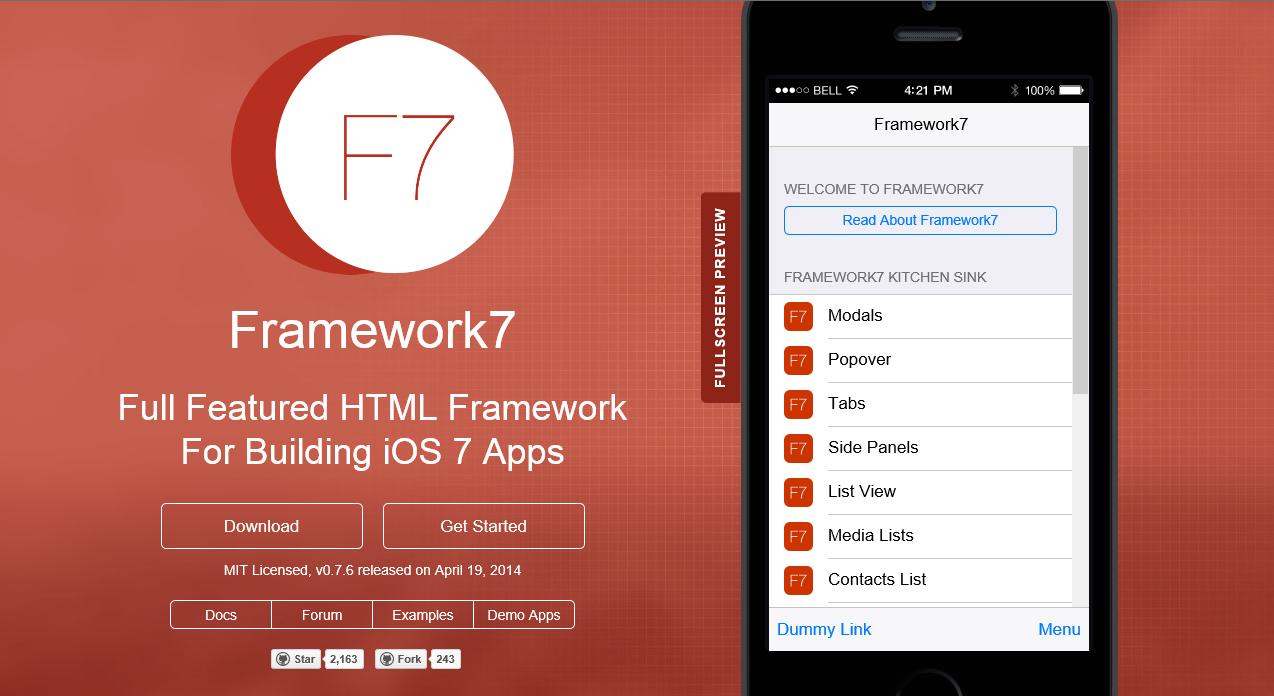 If you want to focus on developing iOS hybrid apps inspired by Google's Material design, then you should consider using the F7 framework. It is a super easy to use hybrid mobile app framework, as it develops apps using the HTML5, CSS and JS web technologies – that most of the developers are well acquainted with.
Pros:
Is the most feature-rich framework for developing hybrid apps for iOS platform, and comes bundled with dozens of UI widgets and elements like popover, side panels, popup, media lists, etc.
It helps in creating native like applications featuring animations and styled components, without having to use complex Angular or React frameworks.
Cons:
Doesn't help in developing cross-platform hybrid apps like other frameworks.
It does not include mobile app builders such as PhoneGap or Cordova.
Onsen UI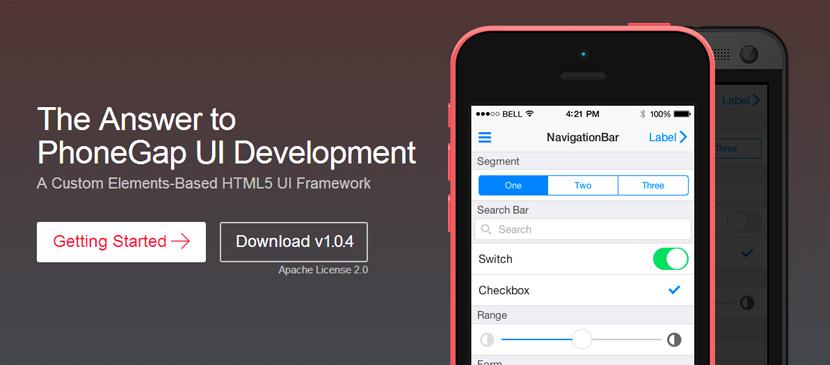 Though Onsen UI is a relatively new hybrid app framework, but within a short span of time it has evolved into a powerful framework. In fact, it is giving a tough competition to the most acknowledged "Ionic" hybrid app framework. Onsen UI is an open source framework and helps develop rich hybrid apps using its jQuery based components.
Pros:
Developers are given the option to choose jQuery over Angular for including UI components into an app.
It features a plethora of ready-to-use and responsive components, enabling you to build hybrid apps for Smartphones, tablets and desktop devices.
Help write applications using HTML5 and JS web technologies, and help those apps deliver native-like experience by utilizing Cordova (and Phonegap) tool.
Cons:
The framework limits developers to use the Onsen UI framework features. That's because, developers can't use the features unless they make use of Onsen UI's HTML-based IDE (referred to as MONACA IDE).
Requires time to learn.
Famo.us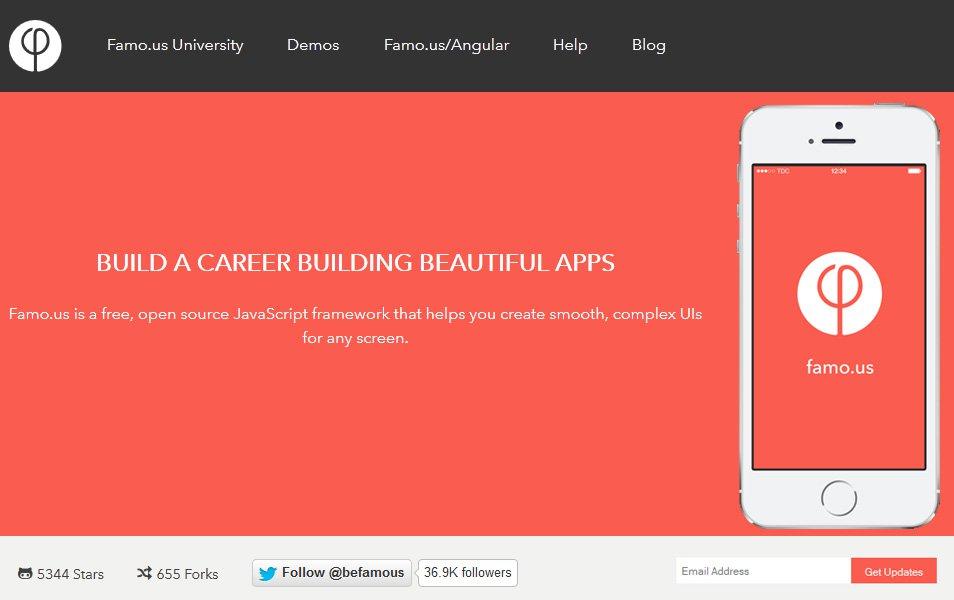 Famo.us perfectly suits the needs of developers working on a gaming app based on a hybrid approach. This is because the framework helps in rendering 2D and 3D graphics, a feature you won't find in other hybrid app frameworks.
Pros:
You don't require using any plugins to make use of Famo.us apps.
It comes with a layout calculation engine that helps in generating, drawing and rendering layouts at a faster speed compared to native browsers.
Ideal for developing small-size websites or hybrid web applications with 3D animations.
Help create blazing fast hybrid apps.
Cons:
It does not make use of HTML and CSS web technologies, and requires you to have good knowledge of JavaScript to utilize the Famo.us framework.
There's a higher possibility that you will encounter edge-case issues and might come across strange bugs.
In order to use the Famo.us framework, you're required to learn many new abstractions, domain specific languages, and more.
Manifold.js
Released by Microsoft, Manifold.js is a tool that helps in packaging, web-based app experience with native apps for platforms such as Windows, Android and iOS. What makes Manifold.js different from other app frameworks in this post is that it focuses on creating websites having app-like properties.
Pros:
Helps in creating high-performance and blazing fast apps.
Hybrid applications created by Manifold.js can be deployed in many different app stores.
Cons:
Steep learning curve.
Most of the developers (especially newbies) aren't familiar with Manifold.js.
Conclusion
There is no one-size-fits-all approach – all the frameworks discussed in this post have a set of pros and cons. So, deciding on which one of these frameworks will benefit your needs to build a hybrid app relies on how you would like to use a framework to accomplish your goal.
Furthur Readings: