Email marketing has become one of the most used techniques for reaching out to a larger group of targeted customers. The influx of multiple emailing options has encouraged entrepreneurs to ensure that their marketing emails stand out from the crowded inboxes of their customers. Whether it's including symbols in the email subject lines or using white spaces in the email body, marketers have tried almost every email trend for rendering a fabulous user experience to all the email recipients. One such trend that has been embraced by a wide majority of email marketers is using the interactive menus. So, get on with reading this post which will familiarise you with the significance of using interactive menus in today's marketing emails.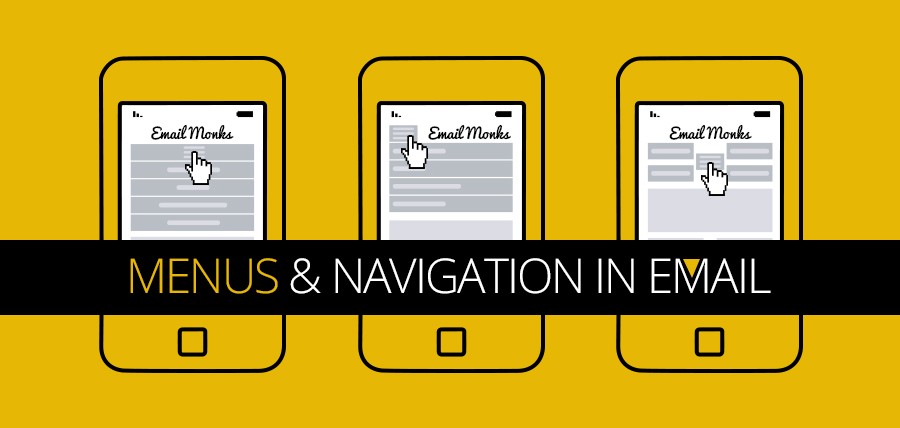 Knowing the different options that can be availed for making emails interactive
Unlike conventional emails, the contemporary ones ensure to get the recipient excited about reading the entire text that has been included within the mail. In addition to making the email landing page compatible with all mobile and web browsers, email marketers are looking forward to taking complete advantage of interactive email elements like Navigation and menus, Flip effects, Accordion and tabs and an Image Gallery. The inclusion of all those elements in the right proportions is an excellent method of enhancing the user engagement via the email marketing initiatives.
What exactly are Interactive Menus?
An interactive menu is basically a refined form of navigation that enables a user to skim through a huge chunk of content without actually reading the entire verbose copy. Serving as a huge advantage both for the email sender and recipient, these interactive menus have added a new dimension to the way emails are being sent for marketing purposes.
A walk through some of the well recognized pros of including interactive menus in emails
Work well for emails related to a wide array of business verticals
Incorporating interactive menus in emails is undoubtedly an excellent approach to woo the targeted customers pertaining to different business domains. For instance, whether you intend to cross sell your e-store products or are looking for sending out email alerts regarding a latest achievement of your business organization, interactive menus will pave the way for retaining the recipient's attention for a much longer duration of time.
An effective optimization of interactive menus is a blessing for 'On the go' email viewers
Your decision to include a drop-down menu in your promotional emails can definitely help you in impressing the 'on the go' email recipients. Additionally, you can easily do away with hiding content or inserting header into the footer. It becomes utmost efficient for you to make a proper use of the header menus to render a better email user experience.
A viable means of boosting conversion rate
The concept of adding an exquisite element of interactivity into your emails will definitely allow the recipients to take quick actions, thereby increasing your conversion rate by a whopping level. For instance, adding highly intuitive forms into your emails will encourage the customers to browse through the massive collection of products and purchase their favorite ones conveniently.
An improved UI and UX is guaranteed with an email that's equipped with an interactive menu
Not many of you might be familiar with the fact that the precise use of interactive menus in emails is an effective means of introducing extensive improvement in the overall UI and UX of the emails. Evolving from a mere piece of text to a full-fledged microsite, such an email will prompt the user to take an action right on the landing page itself.
Quick tips on using Interactive Menus in Emails
Now, let's get to know some of the best and simple-to-follow tips on using Interactive menus in your marketing emails:
Choose the right responsive navigation bars that are related to content stacking
Don't flood your interactive menus with multiple categories as this would make the email quite frustrating for the email recipient to view and respond to
Don't forget to have maximum padding around each piece of text, keeping the size to a low of 14px. Doing this would allow the user to tap on the content easily
Don't ignore the significance of including dynamic menus in your emails. In other words, if you opt for changing a particular menu on your website, the same menu( the one that's available in the promotional emails) would get changed automatically
Device a strategy for testing your email's code for perfect compatibility with all major mobile and web browers, available till date
That's it for now!
Conclusion
Interactive menus can do wonders for retaining the attention of email recipients and motivating them to purchase your products and services instantly. I do hope the details jotted down in this post would have tempted you to insert interactive menus in all your emails that are designed with the sole aim of marketing your product and service range globally.